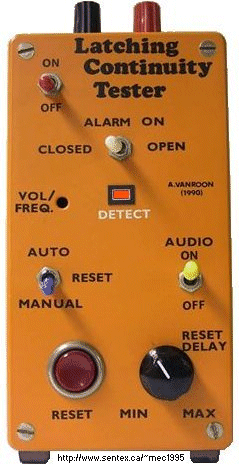 Latching Continuity Tester
"The only continuity tester you will ever need!"
Construction KIT - $35.00
(Temporary out of stock--do NOT order!)
Features:
  o Latches on short, open, or intermittent, in an eye-blink!
  o Visual and/or selective audible indicators.
  o Volume control.
  o Adjustable audio 'delay'.
  o Auto 'Reset'.
  o Uses a common Alkaline 9 volt battery.
  o Very low standby current.  Battery last a long time.
  o Components shown in the picture may not be exactly the same, like
    switch colors (pro version only), depending on availability.
 

Standard version: (0 in stock)  
    Not included in the kit: Battery, battery holder, knob, enclosure(case).

Professional version (0 in stock) 
    Includes these options: Enclosure (can be any color), Rocker Switch & LED, 
    Red/Black binding posts, Rectangular LED, Knob.  
    Not included: 9-volt alkaline battery.

Also, note that the enclosure has to be drilled and worked by yourself!

For the full article, check here: [Latching Continuity Tester]
	
Note: The pre-built & tested version is *NOT* yet available!
Or send an International Money-Order to the address below. Make your funds by International Money-Order *ONLY* out to: Tony van Roon 1043 Langs Circle Cambridge, Ontario N3H 5E6 - Canada