NiCad Discharger for Tx & Rx Packs
by John Nooyen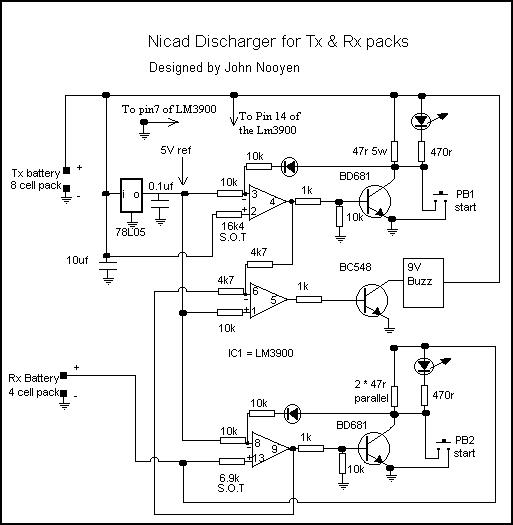 Parts List:
Resistors: 10K(7), SOT 16K4 & 6.9K, 470 Ohm(2), 4K7(2), 1K(3), 47 ohm/5W, 47ohm(2 parallel).
Capacitors: 10uF (electrolytic), 0.1uF (ceramic).
Transistors: BD681(2), BC548(1)
Diodes: 1N4001(2)
Led's: Red, 5mm(2)
IC: LM3900, 14pin, plus 14-pin socket
Switches: Momentary, push-on(2)

The Care and Feeding of NiCad Batteries:

The reason I designed this discharger are many, however I will list a typical example. A modeler charges his batteies for 14 hrs, then goes to the field for a fly. He then rests for a week, then charges his batteries again for 14 hrs and flies again. The third time, he repeats the procedure, then wonders why his aircraft has a major argument with the runway. The problem with this method is that he is rechargeing a battey pack which after the first week, is in an unknown state of charge. The second and subsquent chargings are grossly overcharging the batteries. When they are full, ni-cad batteries begin gassing off the electrolyte, and being a sealed battery, the electrolyte (unlike a car battery), can never be topped up. Over-charging the batteries seriously degrades them, and reduces their capacity drastically.

For all your questions, tips, and suggestions, contact the author of this circuit, John Nooyen in Australia.

---
Back to Gadgets Menu