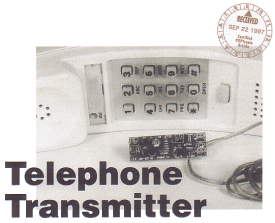 FM Telephone Transmitter Kit
$24.95
Temporary out-of-stock. Do *NOT* order!

For the full article, check here: [FM Telephone Transmitter]

Featuring:

Can receive any phone conversation on your regular FM, or car radio.
Does not need a battery. It takes power directly from the phone line!
Transmission frequency user adjustable.
Phone line acts as antenna.
In most cases it will fit inside your telephone, invisible.
Uses one transistor, three coils. Note: The following is available from: Tony van Roon 1043 Langs Circle Cambridge, Ontario Canada - N3H 5E6 FM Telephone Transmitter Kit, includes everything listed in the Parts List. Please make out your *International Money Order to: "Tony van Roon". Thanks. NOTE: We do NOT ship overseas. Canada/USA/Mexico only.
---
Copyright © 2001 - Tony van Roon